Dave and Kate Skipper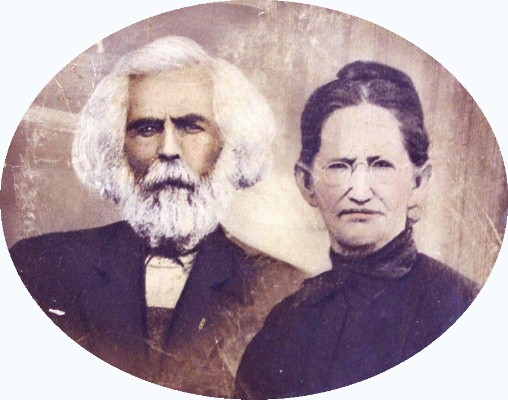 David James Skipper and Mary Katherine Dillon
8/18/1849 - 12/24/1909 and 2/7/1850 - 2/9/1914
Of Conway County Arkansas

by
Ray Don Bostian, 161, C.R. 166 South, Hope, AR 71801
placed on this site by
James M. Skipper
David James Skipper was born in North Carolina (apparently New Hanover County) on August 18, 1849. His father was Joseph W. Skipper and his mother was Susan Louisa Garnto. Only his maternal grandmother, Rebecca Garnto, is known of at this writing. Mary Katherine Dillon was born February 7, 1849 (possibly 1851) in Tennessee. Her father was Jim Dillon, from Tennessee, and her mother (name unknown) was from Kentucky. No information on her grandparents is known.
David James (also known as Dave and 'Big Jim') came to Conway County with his parents at age 7. They had migrated west from North Carolina, stopping for three or four years in Tennessee and arriving in Conway County in late 1856, clearing virgin land for farming between Solgohachia and Lanty. (See article on Joseph Skipper.) The exact date of their marriage is not known, but their first child was born in 1869. According to the 1900 U.S. Census and family records, they had 10 children, 9 of whom lived to marry and have children of their own. This picture is a scanned copy of a photographic copy of a large photographic print taken in about 1900.
Names and dates are not guaranteed. The following information is taken from what the writer considers to be the best sources of Information on the these ten Skipper children:
Mary Florence, born September 20, 1869, married John Franklin Kriselll, died September 26, 1903. Buried at Lone Grove Cemetery.
Harriet Lucretia, born September 1872, married James Franklin Lloyd, buried at Lone Grove.
Louisa 'Lou' Rebecca, born December 13, 1874, married Andrew LaFayette Treece, died March 17, 1954, buried at Jonesboro, Ark.
John Quincy, born February 27, 1877, married Mary Magdalene Sands and Martha Bradshew Bice, died April 17, 1931, buried at McLaren Cemetery, Lanty (see related article).
Elizabeth 'Betty' Casandra, born July 10, 1879, married Sonnetia Harzona 'Nett' Cowan, died February 12, 1931, buried Lone Grove.
James Arthur, born June 19, 1882 married Josephine Noland, died February 9, 1940, buried at England, Ark.
David, born 1885, died at 18 months in 1886.
Rosie Elmer, born August 21, 1887, married John W. Edwards, died February 12, 1974, buried at Gore1 Oklahoma.
Carl Toby, born December 14, 1889, married Ida Octavia Treadwell, died September 21, 1950, buried, England, Ark.
. Ethel Pauline, born June 18, 1894, married James Phillip Turner, died February 10, 1957. buried at Gore, Oklahoma.
Apparently all the children were born and reared on their parentsí farm. The entire Skipper land (including Daveís father and two brothers) was at one time around 600 or more acres (perhaps giving rise to the name 'Skipper Mountain' as it was called). [Has been called Round Mountain since the '40's.]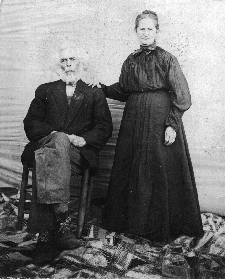 The farm was quite self-sustaining. Grandchildren can remember a large orchard, corn, cotton, and gardens. Also cows, pigs, chickens, and geese (for feather bedding). There were mules and horses, but Dave still liked to use oxen for draft animals. (A family story says that Theodore Roosevelt, passing through the area, had words of admiration for Daveís oxen team.) The wool from Angora goats was spun and weaved into clothing and other textiles. (Some recall a high log bridge over a road for the goats to get from pasture to pasture.) There was a leather tanning vat and tools for making shoes, saddles, and other leather goods for farm use. There was a large blacksmith shop with a large bellows (that kids liked to ride up and down) for making and repairing equipment, including shoes for the oxen.
Daveís independence is reflected in a story told by a young Morrilton cotton buyer. When he was just starting out, he saw an old gray-bearded man coming into town with a bale of cotton on a wagon pulled by oxen. [Round mountain is about 10 miles from town.] The young buyer brashly ran and hopped onto the wagon, preparing to cut a sample from the bale. "Say, grandpa, how much you want for this cotton?" "Donít cut my cotton, boy!" the old man replied. Next thing the young man knew, he was on the ground in the middle of the street nursing a knot on his head from the bull whip handle, the wagon continuing slowly down the street. He learned the hard way that Dave Skipper allowed no one to sample his cotton without his specific permission in advance. The buyer also learned to be more respectful of the local farmers.
Another story relates how Dave once set a trap inside his corn crib thinking that raccoons were reaching through the logs. Next morning, he found a man trying to get his trapped hand back through the narrow space. Dave turned him loose, doctored his arm, fed him breakfast, and gave him a sack of corn, telling him not to steal but to ask for the corn if he was that desperate. The man never stole from him again.
Dave Skipper died December 24, 1909. Mary Katherine died February 9, 1914. They were buried at McLaren Cemetery near Lanty. Daveís grave marker indicates that he was a member of the Independent Order of Odd Fellows. [The cemetery is about three miles north of Round Mountain and just south of Lanty.]
This photo shows two of his great, great grandchildren, John Luther and Rebecca Louise Skipper, standing beside his tombstone. The photo was taken about 1988.

The story continues with James A. Skipper, Sr. who was 27 the year Dave died. James was postmaster of Solgahachia, AR at about that time. The James Skipper family moved to England, AR about three years after his mother died. He was postmaster at England into the 1930ís. His wife worked in their store. Click the 'J A Skipper' button at the top of the page or check the Index on the home page.


DESCENDANTS OF DAVID JAMES SKIPPER AND MARY CATHARINE DILLON
CHILDREN
GRANDCHILDREN
GREAT GRANDCHILDREN
GREAT GREAT GRANDCHILDREN
Mary Florence Skipper
and John F. Krisell
Leonard Ernest Krisell 1888
and Jeanette Evans
Leonard Krisell 1912
Pearl Marie Krisell 1914
James Othel Krisell 1916
Wayne Gus 'Billy" Krisell
(1919- )
Leonard
Sonja
Beverly (son James)
Phyllis
Becky
Tammy
Martha Delores Krisell 1921
Herbert Krisell 1923
Grace Lavern Krisell 1925
Mary Opal Krisell 1927
Ellen Mae Krisell 1931
William Hobart Krisell 1932
Clara Faye Krisell 1934
Ernest Junior Krisell 1937
Mary Frances Krisell 1889
and Elmer L. Bizzell
Cecil Bizzell
Mildred Bizzell
Willard Bizzell
Vivian Bizzell
Ruth Bizzell
Jean Bizzell
Mary Lee Bizzell
Elmo Bizzell
Dave Lindsey Krisell 1891
and Willie Franklin Noland
David Wilbourn Krisell 1915
Florence Matilda Krisell 1917
Margarette Lavern Krisell 1919
Sybil Maxine Krisell 1923
Edith Eileen Krisell 1926
William Walton Krisell 1929
Betty Jo Krisell 1932
Nancy Delores Krisell 1892
and Roy Hillis
Lee Roy Hillis
Ruby Hillis
Burl Hillis
Grady Hillis
Ola Katherine Hillis
Fay Hillis
Roy Hillis, Jr.
Cora Katherine Krisell 1894
and Mannie Noland
Great Grandchildren
Lou Ellen Krisell 1895
and Charles Fletcher Bizzell
Betty Jewell Bizzell 1917
Walter Murl Bizzell 1920
Lucian C. Bizzell 1922
Moses Hobert Krisell 1896-1971
and Jessie Edna Matthews 1904-1982
Carl Lee Krisell Moses Hobert Krisell, Jr. 1927
J. W. Krisell
James Monroe Krisell 1935
Mary Dean Krisell 1937
Ralph Matthews Krisell 1940
David Ed Krisell 1943
Paul Wayne Krisell 1947
Lynd Ruth Krisell 1950-1970
Olen Quincy Krisell 1898
and Ollie Bruce
Olin Quincy Krisell, Jr. 1924
James Arthur Krisell 1901
and Evelene Hurst
James Darvin Krisell 1926
Harriet Lucretia Skipper 1872-1918
and James Lloyd
Aveline Lloyd 1888
Great Grandchild
William D. 'Bud' Lloyd 1892
Great Grandchild
James Arthur Henry Lloyd 1894
Great Grandchild
Cathy Voss Zimmerman?
John Lincoln Loyd 1896 - 1960
James Howard Loyd 1925
Marianne Estes
James Moses Loyd
William Howard Loyd
Anita June Loyd
Dewey Lloyd 1898
Great Grandchild
Napoleon Lloyd 1902
Great Grandchild
Arkie Laverne Lloyd
6/26/1905 - 10/1987
William Height
Charles Allen Height 9/4/27 Louise Ganaway
12/19/22 - 10/27/2003
Debbie Ganaway
Andy Ganaway
Lucy Lloyd
5/24/1908 - 7/7/1958
James Cecil Stover
9/3/1899 - 5/22/1955
Betty Jo Stover 10/9/1927
Lewis Serifino Borghi 5/18/1925
Betty Louise Borghi
6/17/1949
Albert Cecil Stover 2/7/1930
Betty Lou Hill 1/13/1931
Debra Diane Stover
1/7/1958
David Allen Stover
1/22/1961
Dr. Danny Dean Stover D.M.A.
9/13/1966
Sharon Gail Stover 12/13/1944
Richard Joe Robertson 8/9/1948
James Adam Robertson
10/15/1976
Louisa Rebecca Skipper 1874-1954
and Andrew Lafayette Treece
Russel Alger Treece 1897-1954
Great Grandchild
Alvah "Alva" Treece 1900-1979
Mary Louis Kahre McAuley 1921
Janice McAuley Waters
Kate Elizabeth Treece 1909
Great Grandchild
Betty Catheryn Treece 1911
Great Grandchild
Otis Arden Treece 1914-WWII
Greatgrandchildren
Charles Hughes Treece 1917
Great Grandchild
John Quincy Skipper 1877
and Mary Magdalene Sands
and Martha (ne Bradshaw) Bice
Ida Saxton Skipper 1900
and Don Taylor Bostian
Iris Dalene 1923
Jimmy Surratt
Donnelle Surratt
Iris Lynn Surratt
Cheryl Surratt
Shirley Lee 1926
Glenda Whittimore
Vivian Whittimore
Muriel Dean 1928
Gayle Bodenheimer
Cathy Bodenheimer
Roger Don Bodenheimer
Kelly Bodenheimer
Matthew Bradshaw
Ray Don 1933
Rachel Bostian
Laura Bostian
David Ray Bostian
Ida Bostian
Annie Lee Skipper 1901
and Claude Evans
Great Grandchild
Arthur Franklin 'Son' Skipper 1903
and Mae Evans
Charles Skipper
Billy Skipper
Gordon Lamar Skipper 1906
and Effie Parker
Great Grandchild
Bertha Carew Skipper 1907
and Marvin Koonce
Great Grandchild
Naomi Mae Skipper 1908
and George Mohr
Bradley Mohr
Delma Catherine Skipper 1910
and Jerrold Atkinson
Great Grandchild
George Quincy 'Bill' Skipper 1912 - 1931
Adam Bradley Skipper 1914
and Evelyn Sisson
Great Grandchild
Winnie Dale Skipper 1916
and Curtis Craine
Great Grandchild
Glenn Bradley Bice Skipper 1918
and Erma Lee McClung
Great Grandchild
Walter Marion 'WM' Bice Skipper 1921
and Billie Wetzell
Great Grandchild
John Quincy Skipper, Jr. 1925
and Rebecca Newberry
Great Grandchild
Elizabeth Casandra 'Betty' Skipper 1880
and Sonnetia H. Cowan
Leon Cowan 1897
Great Grandchild
Leonard Cowan 1899
Great Grandchild
William Cowan 1902
Great Grandchild
Katie Cowan
Great Grandchild
Stella Cowan 1910
Great Grandchild
Sturl Cowan 1910
Great Grandchild
Arbra Cowan
Great Grandchild
James Arthur Skipper 1883
and Mayola Josephine Noland
Thelma Skipper 1908
Virginia Edgeworth
Elizabeth Edgeworth
David William 'Irving' Skipper 1911
Mildred Pauline Skipper 1919
Skipper Yawney 1946
James Arthur Skipper, Jr. 1921 - WWII
James Maxwell Skipper 1941
James Maxwell Skipper, Jr.
Louis Lee Skipper
Rebecca Louise Skipper
John Luther Skipper
Jeanne Fran Skipper 1942 twin
Joshua Dalzell (with Sarah, Aiden April 2003)
Nell Elaine Dalzell (with Tony Baker, Ky, Josie, Chloe)
Josephine Ann Skipper twin
1942-1943
Joe Noland Skipper 1931-1999
James Arthur Skipper III 1950
Jason Skipper (with Jen, Ryan Diane Skipper May 2003)
Ashley Skipper 1977
Renee Skipper 1953
Crystal Belew 1977 (married Tim Kile 2001)
Richard Skipper 1959-1994
Rosie Elmer Skipper 1887-1974
and John W. Edwards
Millard Ishmael Edwards 1912
Great Grandchild
Mildred Ethel Edwards 1914*
Great Grandchild
Othel Lee Edwards 1916
Great Grandchild
Mary Opal Edwards
Great Grandchild
Leonard Bradley Edwards 1922
Great Grandchild
Syble Irene Edwards 1925
Great Grandchild
Carl G. Edwards 1929*
Great Grandchild
Carl Toby Skipper 1889
and Ida Octavia Treadwell
Ritta Skipper 1912
Great Grandchild
Reba Skipper 1912
Great Grandchild
Ruby Skipper 1915
Great Grandchild
Roy Cline Skipper 1916 -
Great Grandchild
Ruth Carlena Skipper 1918
Great Grandchild
Raymond Columbus Skipper 1921 - WWII
Carl Toby Skipper, Jr. 1926
Great Grandchild
Ethel Pauline Skipper 1894-1957
and James Phillip Turner
Marritta Catherine Turner 1911
James Paul Turner 1913 - 2001
Paula Turner
Chance Parker
Genevieve Alene Turner 1915 - 1928
Johnie Ione Turner 1917*
Marian
Lou Ann
Marian Adeline Turner 1919
Mary Glen
Jim
Fredis Eustis Turner 1929*
Kay Turner
Jan Turner
Brian Turner
Lisa Turner
A total of 66 who lived beyond childhood. At least two of these were adopted. *At least five are still living in June 2002.


7/12/02