MAXWELL
YOUTH (1904 - 1910)
During those years, Alvus had a small general store near the McElroy School (later, the school building was moved to State Highway 95 and became Vinson Chapel) about two miles north of Bull Mountain. Luther would sometimes watch the store and he remembered an evening during which he sold only one 2-cent spool of thread. Luther also went with his father on his peddling route. In the early days the goods were hauled in a horse-drawn wagon or cart that had been customized to store and display products for the home. Later Alvus bought a Ford Model 'T' for his peddling route. He had equipped it with drawers, bins, and hangers for his goods.

Alvus had to make a twelve-mile trip to town to re-supply his stock. It was difficult to make the trip and return in one day; horses or mules could pull a wagon at two to three miles per hour, so the round-trip was eight hours minimum. The men often spent the night at a wagon yard. The animals could be provided for and the travelers could sleep in their wagons in the yard. By traveling to town in the afternoon and spending the night, travelers would have more time to conduct business and see some of the sights the next morning before returning home in the afternoon or early evening. After cars and trucks became available, it was easy to make the trip to town and return in a day.

Sometimes on these trips to town Alvus would give the boys his leftover poor quality skins for them to sell for spending money. Luther said that the man at the wagon yard was also a fur trader, but usually didn't want to buy the skins from the boys. He would send them on to someone who would handle poor quality skins. The boys probably trapped and skinned animals of their own as well.

Conversation with Grandpa was difficult because of his poor hearing, but we did try to talk to him about what life was like when he was a boy. I think Momma and Grandma encouraged us to talk to him. One thing I remember is that they only had ten grades of school back then. He would have completed ten years of school in 1908. He would have been 16 years old in the fall of that year. That was also the year my Grandfather Skipper's first daughter was born and the year he became postmaster at Solgohachia, a town about five miles south of Lanty where Luther lived. And it also was the year that Henry Ford began producing the Model 'T' Ford, the car for "everyman." Luther eventually owned a Model 'T.'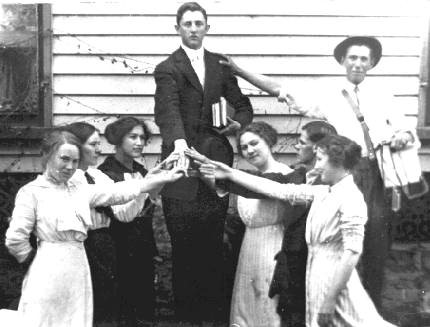 Luther attended two years at the State Normal School in Conway. The State Normal School eventually became Arkansas State Teachers' College and is now the University of Central Arkansas. He had a girl friend who was attending Hendrix College, the Methodist school in Conway, but the rivalry between students at the two schools kept their friendship from going further.

The Normal School prepared students for teaching but they still had to pass a test prepared by the director of the school district in which they taught. Counties licensed teachers who passed the required tests. Apparently Luther completed his training and was licensed to teach by the time he was 18. This photograph was made around 1910 and may be one of his early school classes or some fellow students at the State Normal School.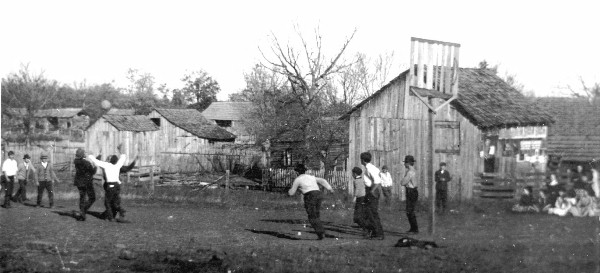 Basketball was invented the year before Luther was born, so by the time he was a youth, it was becoming popular thoughout the country. In the small rural communities it rivaled baseball as a community team sport. I believe that this photograph was made in Hattieville between 1910 and 1920. Most communities couldn't afford gymnasiums, so basketball was an outdoor, good-weather sport. Notice that the backboard is made of slats. That must have made bank shots difficult. The court is dirt with no markings. This is a well made photograph. The photographer was even able to stop the action with the 'jump ball' in the air and with players beginning to make their moves. Luther 'jammed' his little finger playing basketball and carried a crooked little finger to his grave.












8/22/02