MANLY-NORTH HEAD
AUSTRALIA
SYDNEY SKYLINE FROM NORTH HEAD
This telephoto view of Sydney was taken from the north side of the entrance to Sydney Harbour (upper right of 16 on the map). South Head is immediately across the harbor entrance. The land to the right is the area indicated by numbers 25 through 27 on the map. The Sydney Harbour Bridge (34) is visible over the horizon on the right and Sydney stretches across the skyline to the left (or east) in the view. This image is combined from two slides and the trio of men had moved along the trail between shots.

Click on the map for Sydney Ferries Harboursights Cruises.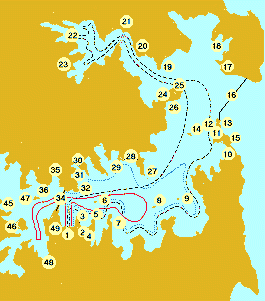 Manly (18 on the map) is about a twenty-minute ferryboat ride from the Circular Quay (1) in Sydney. My impression was that Manly is a resort and exclusive residential area. It is located on the penisula that forms the north side of the entrance to Sydney Harbour. The harbor entrance is on the Australian Pacific coast north of Sydney. From the entrance between north head and south head, the main harbor opens to the south and then turns west to Sydney.

We were in Australia on a Texas/Australia Baptist Partnership mission trip. Our pastor and his wife and Ann and I were assigned to visit a small church in Cabramatta, a suburb town west of Sydney. During our stay, the church members treated us to a tour of Sydney, the Koala Zoo, the harbor, and Manly. From the ferry dock in Manly it was only a short walk across the narrow point of the penisula to a beach on the Pacific side. There is a wide pedestrian street lined with shops along the way. We stopped and had Aussie meat pies. Since July is the middle of the winter season south of the equator, there wasn't much to see or do at the beach. We caught a bus out to the northhead lookout point (16) to see the view of the harbor mouth and Sydney.
View the first four images from right to left.
| | | | |
| --- | --- | --- | --- |
| | | | |
| This point must be the one just west of (17) on the map. | A church building in a picturesque cove near (17). | North Head - The view is east toward the Pacific. The harbor entrance is too wide to get both sides in one shot. | South Head - The harbor entrance is about 15 minutes by ferry from the Circular Quay. This photo was first in the series and was made from (12) on map. |
| | | | |
| The beautiful architecture along the coast at Manly. | The area very near the ferry boat dock. | The beach beneath the trees was only a few yards east of the dock. | A view along the dock looking south. The sun was to my back. |
| | | | |
| Ann and our pastor's wife waiting on the quay. The beach is left (east) of the photo. | View from the bus as we traveled through an exclusive residential area during the climb to the heights of North Head. | A photo of Ann and me on the lookout point on North Head. | North Head and the vast Pacific. With the winter sun in the north, the face of the clif was in deep shade. |



PAGE 1 - Sydney skyline viewed from the harbor, downtown buildings, green spaces, street vendor and musician, pedestrian boulevard and landmark tower.

PAGE 2 - Scenes along the quay around Sydney Cove: the Harbour Bridge viewed from quayside, docks, Sydney Opera House, warehouse restaurant and shops on 'The Rocks,' and more green spaces.

PAGE 3 - Sydney skyline from North Head. The 'North Head.' The South Head.' Highrise architecture in the Manly area. Docks and boats. Beach.

PAGE 4 -

PAGE 5 -








9/5/02