Bio-log of James Arthur Skipper, Junior
November 7, 1921 - June 26, 1945
James A. Skipper Jr and Eva Louise Skipper Family
prior to his transfer overseas
1921 November 7 — James Arthur Skipper, Jr. was born at England, Lonoke County, Arkansas, to James Arthur and Mayola Josephine Noland Skipper. His older siblings were Thelma, 13; William "Irving", 10; Pauline, 1.
1925 - Photos on the JAS Family Photo page show James in his mother's resale shop and with the Skipper family during a visit with other Skipper relatives in Oklahoma.
1931 - (9) February 19 — James' brother, Joe Noland Skipper, was born.
1932 (10) - June 17 — Elementary School Diploma and admission to England Junior High.
1934 (12) - Summer — James was a first class scout and traveled by train with the scout troop to 15 states through New York City, Canada, and back to Chicago for the world's Fair.
1937 (15) Delegate to the Tenth Arkansas FFA Convention. His delegate ribbon is in the old family collection. (I'll verify the date of the 10th later.)
1938 (16) - April 22 — England High School Diploma.
Fall (almost 17) — Attended Arkansas State Teachers College in Conway.
1939 (17) - Fall — Second year at State Teachers.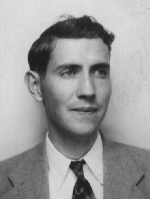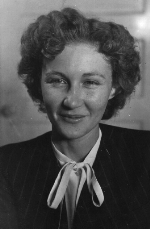 November 19 — (18) Married Eva Louise Maxwell in the First Methodist Church. Returned to job in Men's Department at Sterling's store in Little Rock; worked in Sterling electrical dept during Christmas (Toy trains, etc.)
1940 – (18) February 4 — Joined by Louise in Little Rock at end of semester. Attending First Methodist Church of Little Rock.
1941 (19) February 11 — James' son, James Maxwell Skipper, was born in Little Rock. James' little brother Joe was 10; his big brother Irving would be 30 that year.
1942 (20) March 16 — Twin daughters, Josephine Ann and Jeanne Fran, were born.
May 11 — Obtained DELAYED CERTIFICATE OF BIRTH
1943 (21) January 1 — September 9 — Worked for Cities Service Defense Corporation; earned $1,924.08. Lived with family at: 123 Victory Crts., Conway. Also received $72.90 from W.M. Kellogg Co. (Sterling?)
April 6 — Daughter, Josephine Ann, died of a heart valve defect. Buried at Lanty.
(There is a movie of the funeral. It has not been transferred from 16mm film to video tape yet.)
September — Memo of transfer to Cities Service, Lake Charles, Louisiana. Gas for travel by personal auto to be provided. Moving arrangements to be handled by the company.
October 4 — Scheduled to report to personnel manager 716 Hodges St. 9:00 a.m.
We had a car wreck on the way to Lousiana. I only vaguely remember it. I was told that there were cows sleeping on the road (two-lane blacktop) and Dad swerved into the ditch to miss them. The ditch was deep enough that the car was on its side. They had difficulty getting Jeanne and me out. I think they went through the trunk to get into the back seat area. Lot's of broken food jars in the trunk.
The musical Oklahoma! was produced that year. I can remember Dad singing "Oh, What a Beautiful Morning" as we drove around Lake Charles on a Sunday morning.
I can also remember Daddy coming home from work. I can see him walking down the sidewalk and coming through the gate of the white picket fence. I would run to meet him on the walk from the gate to the house.
1944 (22) June 19 — Physical exam for Selective Service System.
Dad would have qualified for an exemption from the draft because of his family and his job. However, he wanted to serve. He and Momma may have compromised; he didn't volunteer, but stayed eligible for the draft.
November 2 — Order to Report for Induction. Ordered to report to the local board in Little Rock on November 13th, 7:00 a.m. November 6 — Letter of resignation from work for induction into the Army. November 13 — (23) Inducted at Camp Joseph T. Robinson, Arkansas. November 16 — Applied for $10,000 National Service Life Ins, at Camp Chaffee. Applied for Dependency Benefits for wife and two children.
November 16 — Household goods shipped from Lake Charles to Arkansas.
November 26 — Began Infantry Replacement Training, Ft. Hood, Texas.
1945 (23) March 10 — Completed training at Ft. Hood.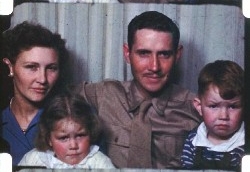 March 26 — Monday night wrote letter to in-laws on Fort Ord, California, Service Club stationary. Had just arrived after long trip. Expected to be there eleven days.
May 8 — Arrived on Luzon Island in the Philippines. Assigned to 149th Infantry.
June 6 - The text of his last letter to his sister Pauline will be added here.
June 26 — James was killed in plane crash at the age of 23 years and 7 months. He helped dump supplies out of the plane as they flew over military positions.
July 4 — Date of telegram informing family of his death. Also follow up memo.
I don't remember the date the telegraph arrived, but I do remember two military men arriving by taxi or military vehicle. I'm sure Momma and her parents knew what the message would be. Jeanne and I naturaly responded to the sorrow even though we may not have completely understood what had happened. Grandpa said, "Don't cry Jeannie babe." and told me that I would have to be Momma's little man.
July 13 — Instructions from Office of Special Settlement Accounts. Includes notice of Six
Months' Death Gratuity Pay.
July 17 — Letter of condolence, Lieut. Gen. Walton H. Walker, 8th Service Cmnd.
July 20 — Letter of condolence from Chaplain, Headquarters 149th infantry. (with photo of cemetery)
August 14 — Letter of condolence from another chaplain with photo.
September 19 — Notice of $34.16 final pay due at date of death.
October 3 — Notice of location of burial.
October 29 — Notice of forwarding of personal effects.
November 9 — Notice of pension to unmarried widow. She was 25, he would have just turned 24.
Since this collection of documents and letters was passed on to me by my mother, several other papers were given me by other relatives. I'll add excerpts as time permits.


Re-posted: 11/20/02
Searchable File of Names of Many of the Descendents of Joseph and Louisa Skipper