James Arthur Skipper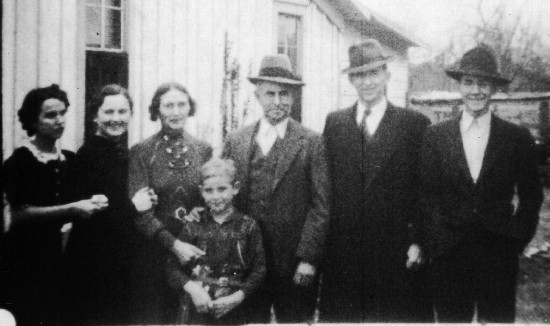 James Arthur Skipper Family:
Pauline,18; Thelma, 28; Josie, 46; Joe, 6; Jim, 54; Irving, 25; and James, 15.
30th Wedding Anniversary
January 1937
JAMES ARTHUR SKIPPER, SR.
June 19, 1882 - February 9, 1940
MAYOLA JOSEPHINE NOLAND
July 22, 1890 - March 29, 1939
1882
James Arthur Skipper, Sr. was born June 19, 1882 to David James and Mary Katherine Skipper, probably at their family farm near Lanty in Conway County Arkansas. His grandfather Skipper had settled in Conway County in 1856 and several in the family had bought land near Round Mountain, which was called Skipper Mountain back then. When James was born, his mother and father were 33. He had four older sisters: Mary, 12; Harriet, 10; Lou, 8; and Betty, 3; and an older brother, John Quincy, 5. The Skippers had lived in the area for 26 years.
Round Mountain is about 13 miles north of Morrilton, the county seat. It is three miles north of Solgohachia on the road to Lanty, which is two miles further north. Round Mountain is a large hill with a spherical contour and it is a very prominent feature on the landscape. It is still tree covered except where shale has been dug out for road surfacing. The highway circles the west side just above the base of the hill. The hill rises 220 feet above the general elevation of the area to a height of 650 feet above sea-level.
It probably took 3 to 4 hours by horse drawn wagon to reach Morrilton, the county seat and only town of any size in Conway County. This part of the country was very primitive in the 1880's and remained so for some 80 years. The roads were unpaved and there was no bridge across East Point Remove Creek between Round Mountain and Solgohachia. The creek could be forded by a good team and heavy wagon at a water depth of up to four feet, but probably very few would try it; they would just wait until the water went back down. The road through Lanty was not paved for about 90 more years. I'm not sure when the bridge was built across East Point Remove. State Highway 9 through Solgohachia was paved in the 1950's. Highway 9 swings northeast to Centerridge rather than following the old road through Lanty.
The extended Skipper family is not completely clear, but James' grandfather, Joseph W. Skipper had died. His grandmother, Susan Louisa, age 49, was still living in the area with some of her children. Louisa was probably a second wife and was 15 years younger than Joseph. She was called Suza for short. At home with her were John, 29; George, 20; 'Deed', 13; and great-grandmother Rebecca Garnto, 78. Other uncles and aunts may have been in the area: Charles, 38; David, 30, Caroline, 26; and Laura, 24. Three others may have died by then. Wilson was Deed's twin brother and Mary and Dunkin would have been in the mid teens.
Republican Chester A. Arthur was president having succeeded James Garfield after his death. Since Joseph Skipper, Jim's grandfather, had been a staunch Republican and had joined the Union Army after Little Rock fell. It is possible that the middle name, Arthur, was in honor of the president. The Republican political persuasion would be linked to the Skippers for years. Charles Darwin died that year.
1885
The next brother, David, was born. He lived only a few months - less than two years.

Democrat Grover Cleveland took office as president of the United States.
1887
Sister Rosie Elmer was born August 21st.
1889
Brother Carl Toby was born December 14th. George Eastman was producing the Kodak camera which made photography possible for everyone. Republican President Benjamin Harrison took office.

For some idea of what life might have been like for Jim as a little boy, click here or on the index button at the bottom of the page.
1890
Mayola Josephine Noland, Jim's future bride, was born July 22, 1890 to William F. Noland, age 30, and Sarah M. Beaty, age 28. They lived in Lanty. He was from Alabama and Sarah was from Georgia. They had two older daughters: Nolar, age 9, and Sidney, age 6. Jo's father died when she was four and her mother died when Jo was ten. James was eight years old when Jo was born. (James was probably called Jim, since his father, David James, was sometimes called Big Jim. Also Josephine sometimes signed her letters 'Joe.')
1893
Democrat Grover Cleveland was back in office for a second term.
1894
Sister Ethel Pauline was born on June 18th. Jim was 12 years old the next day. His parents were 45 years old. His Grandmother Skipper and Great Grandmother Garnto had probably died by that time. The record is not available. His oldest sisters would have been 22 and 24. Mary had married John Krisell; Harriet had married James Lloyd.

Josephine Noland's little sister, William Franklin Noland, was born April 5, 1894.
1897
Republican President William McKinley took office.
1900
Jim turned 18 in 1900. There is no record of his education, but based on his later employment as a postmaster, perhaps he had a good education for the time. He was still living at home with his parents, David James Skipper and Mary Catherine Skipper. Daves mother, Louisa, was 79 and lived with the family. The younger children Rosie Elmer, Carl Toby, and Ethel Pauline, were also at home.

Jo Noland, Jim's future bride,was 9 and lived with her sister Nolar Roe's family. Little Willie lived with them, too.

Jim's older brother, John Q., was 23 and had been married to Maggie for two years. John was teaching at the Lone Grove School when he met and married Maggie. Jim's four older sisters were all married and living in the Lanty area. (McLaren Township)
The first Zeppelin was flown in Germany and in the U.S. there was hope that the animals providing transportation in the cities could be replaced by gasoline engine-powered vehicles to reduce the pollution resulting from all the animal waste on the streets. Teddy Roosevelt apparently made a campaign swing through Conway County, because the family tells a story that Roosevelt expressed admiration for Dave Skipper's ox team. Teddy Roosevelt served two terms as President. The Wizard of Oz was published.


GUESTBOOK ONE

GUESTBOOK TWO
Re-posted: 1/15/03
Searchable File of Names of Many of the Descendents of Joseph and Louisa Skipper