Dave Skipper's Daughters



LOUISA REBECCA SKIPPER
'Lou' was Dave and Kate's third child. They were 25 when she was born December 13, 1874. They might have had their own place by that time. Dave's mother, Louisa, was 44. Lou may have been named for her grandmother and her great grandmother, Rebecca Garnto, who still lived with Joseph and Louisa. (My daughter's name is Rebecca Louise Skipper.) Rebecca Garnto (Joseph's mother-in-law) was about 70 and Joseph was 60. Dave's two older girls were five and two years old. When Lou was three, the first son, John Quincy, was born to Dave and Kate. Another sister and brother were born before Lou got married and two sisters and a brother were born after she got married.

In late 1896 or early 1897, Lou married Andrew Lafayette Treece. She was 22 years old and he was 23. Lou's older sisters had been married for more than 10 years and together had 11 children. Lou and Andrew's first child, Russel Ager Treece was born July 18, 1897. All of their children were born in Conway County; the first three in Lanty and the other three in Morrilton or Overcup. Sometime later they moved to Jonesboro, Arkansas.

Their children were:
Russel Alger (1897 - 1954)
Alva(h) (1900 - 1979)
Kate Elizabeth (1909 - )
Betty Catheryn (1911 - )
Otis Arden (1914 - 1945) Otis was lost in the South Pacific during WWII. Dave and Kate lost three grandsons in WWII: Otis Arden Treece; my father, James Arthur Skipper, Jr.; and Carl Toby's son, Raymond Columbus, who died of a broken neck in the U.S. Navy in the South Pacific
Charles Hughes (1917 - )
Lou's father, Dave, died the year Kate Elizabeth was born and her mother, Kate, died the year Otis Arden was born. The surviving children of Dave and Kate had difficulty in settling their parents' estate and there were hard feelings the two younger sisters , who favored giving all the land to their brothers, and the surviving older sisters and their husbands. The children soon began to scatter; brothers James and Carl moved to England, Arkansas; sisters Elmer and Ethel moved to Oklahoma; and sister Harriet died. Only Elizabeth Cassandra Cowen and John Quincy Skipper remained in Conway County after the early 1920s.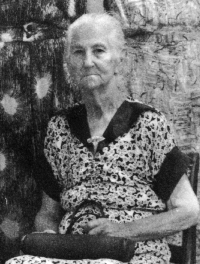 Andrew Treece died in 1952 and Lou died March 17, 1954. They were living in Jonesboro at the time. This photograph of Lou, taken with Florence Skipper Krisell's children, may have been made after Andrew died, but might have been made in 1951 and he was not in the photo for some reason.




2/27/02