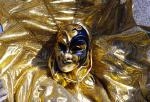 Irmingard Anna Kotelev
Irmingard's images are as bright, sharp, and colorful as projected slides. They are beautiful viewed from her Web Site, but even more beautiful on her CD slide show. You can find details for purchasing the Carnival Millennium CD on her site. Carnival of Venice - The costumes of the participants in the Carnival of Venice are marvelous in their intricacy and brilliant color. Her photos bring out the color whether in sunlight or at night with flash. You might not get a better view of these carnival revelers even if you were there! She says that this year's carnival was really difficult: "Just came home from my stay in Venice for one week for the carnival. It was only fighting for pictures. You can't imagine how bad people were. They hit me, smashed it, insulted me...pulled on my hair, started fighting. . . . So many people, you couldn't move. . . . And in the crowds I couldn't shoot one mask. So I [fought] with 15 lbs photo equipment on my left shoulder. . . . There are about 10 different groups, mostly coming from France, . . . About 6-9 months to make one costume!!!"
Carnival of Trinidad & Tobago - Another look at Carnival!
Santorini - More beautiful photos: bell towers, stairways, domed building, and other beautiful architecture of Santorini. There are many others: Tribute to New York, South Africa, Ireland, and other locations. And other things too numerous to mention.
England, Scotland, Ireland
My son Louis spent three weeks this summer touring these countries in a small rental car. He spent many nights in the car to save money. He made around 700 digital photos, but here has selected 6 from each city. This link is to Liverpool where he photographed famous Beatles locations.
My Turkey in Pictures
Oktay has a large portfolio of great B&W photos of his beloved homeland. The photos include historical locations, natural landscapes, and city and country life. He has included some background MIDI music
A Summer in Greenland
Steffen Meyer says, "I'm a danish orthodontist, and I travelled to Nuuk to work as such, temping for my friend Susanne, who was on maternity leave at the time. I hoped, of course, to experience the Greenlandic culture and nature as well - and I did!!!" His photos of the colorful, quaint achitecture and the marvellous natural settings are sharp and bright as a result of the clear dry air of the far north.
He has added much more to his site. The latest addition documents his trip to Thailand.
Gabi's Travels
This is Gabi's welcome to you: "Hello and welcome!! How, did you find me. I am Gabi, an Austrian from the western part of my beautiful country, from the town Dornbirn in the (for most people unknown) province Vorarlberg. I lived 7 years in Asia (4 years Taiwan and 3 years Japan) and came back to Austria in late 1998. I want to share my travel reports and pictures with other people on the net. I hope you like my homepage and please don't forget to sign my guestbook, thank you!" A real world traveler, she has photos from the U.S.A., Mexico, South Africa, Australia, Japan, Spain, Italy, Croatia, and Lago Maggiore. Her format is to link the pictures to the descriptive words in her travel journal. She must have a couple hundred photos. I haven't had the time to look at all of them. Her journals are fun to read.
Another site here.
SIX
Some text.
SEVEN
Some text.
EIGHT
Some text.
NINE
Some text.
TEN
Some text.