MOSCOW JOURNAL Russian and US Teams Pose in Test Chamber
In January 1998 I went with a group of engineers from NASA to the Zvezda facility in Moscow to observe a special vacuum chamber test of a Mir space suit which had been returned from the Mir on one of the Shuttles. The Mir space suits are normally put into the trash after their useful life is over and they burn up during re-entry of the trash container. This one was to be refurbished for use in a joint US and Russian space suit test at the NASA Johnson Space Center in Houston to verify that the Space Station Airlock equipment could support either of the suits or both suits together.
Thursday 1-15-98
Take off from the NASA hanger at Ellington airbase at about 10:00 a.m. (CST) - about 40 aboard and one cat. A little mini-van hauled us to the plane in groups of six in the order in which we had signed in. We each had a row of seats to ourselves. Flew just at cloud top level (low, 100% cloud coverage) a beautiful white world below us. Served ham and cheese sandwich with an oatmeal cookie and cheese. The green melon was not ripe.
There were several worktables aboard the plane. The trip planners had brought a TV and a VCR. It took 20 minutes to reach Dulles airport in Washington, D.C. It was overcast all the way. I reset my watch to Moscow time because Ann told me I should. 9:00 p.m. in Moscow. It was 32 degrees Fahrenheit (0 Celsius) in Washington. Raul hope we get to leave the plane at each stop. The sunshade over the window got extremely hot (100-115 deg. F) from the sunshine coming through the window.
Most of the people aboard went in vans to a lounge at the airport. The plane has a stairway and an exit in the tail. Two men in camouflage came aboard and checked up and down the aisle. I think that was supposed to be a customs or safety check. The weather was cold and drizzly
We took off at 10:45 Moscow time (2:45 local, 1:45 p.m. CST) in drizzling rain. We were above the drizzle within three minutes. 11:45 a nice nap. Still overcast. We had chicken chunks in mushroom sauce, corn and rice pilaf, and broccoli. Very good pineapple. Most are drinking.
Friday 1/16/98
3:03 a.m. (Moscow time?) Bad weather at Gander, Newfoundland forced us to continue to Goose Bay/Happy Valley, Labrador. There was a strong wind blowing snow across the airport. All of us made a trip to the terminal. It was not a long walk. The pilots had called ahead for an 'emergency' delivery of pizza so we weren't likely to starve. (They had planned to pick up food at Gander.)
3:45 Rolling out at Goose Bay. 7:00 Ghostly gray cloud tops lit by the moon.
Rolling out at Reykjavik, Iceland, at 8:37 a.m. Moscow time (5:37 a.m. local). A new crew is aboard. Several of the passengers are sleeping now. Everything is quiet. There was a lot of noisy card playing on the previous leg of the journey. It's almost midnight back in Houston. Fourteen hours travel so far. The streets around the airport seem to be well lit. There is a lot of water.
10:00 a.m. (Moscow time) A stewardess said that she and the new crew had flown to Iceland by commercial flight Tuesday. They had 40 hours to tour the area before we got there on their charter plane. The hotel where they stayed let them borrow a van. They saw frozen waterfalls, geysers, and Icelandic ponies. The sun was up from 11:00 a.m. to 5:00 p.m. local time.
10:02 There is a hint of red on the horizon ahead and to the right of the plane. 10:17 Looks like ocean oil drilling rigs below us. We have dropped in altitude. The moon is behind and to the right of us. The sky is bright ahead. Sunup at 10:50 and breakfast at 11:50 was sizzler sausages, egg omelets, and spicy hash brown fried potatoes.
1:10 p.m. Moscow - It was overcast with light snow flurries when we landed at one of the older airports. The airport is smaller than the old city airport in Houston. Got onto a bus, which made a big U-turn and let us out at the entrance. We climbed some stairs, then walked through several halls, picked up customs declaration forms and our baggage. We walked through several more halls and up more stairs. A young fellow basically just waved us through his checkpoint and out into the airport lobby. Our visas and passports were checked and stamped on the way in. We waited in the lobby with a crowd of local people who were waiting to meet friends or relative. A pretty young girl with a big baby came by begging for milk money. (We had been warned not to give to beggars because it might cause a disturbance, but when we returned on our trip home, I did. That will come later.)
We rode a bus to the hotel. There were lots of interesting buildings and billboards along the way. The hotel is very modern, but with European touches. Joey took us to a small grocery store in a mini-mall type place. It was self-serve. They had modern price scanners. They stocked U. S. peanut butter.
Saturday 1/17/98
Got up about 6:00 and read some. Went to the lobby on my floor to sit in the easy chairs. Craig and Todd were heading to Red Square. We went to the main lobby and found Raul just before 11:00. He and Joey had planned to go to the 'CD' park. [A flea market specializing in 'boot-legged' CDs of all types had been set up in one of the city parks.] Found Jim Warnix and Bob Hill. They were going to the park with the big 'flea market' along with Jerry Goodman. We couldn't find Joey, so Raul joined me to go to the flea market with the others. The flea market was a pretty long subway ride away. We had to walk about a quarter mile to and from the subway stop to the market.
AT THE OPEN-AIR MARKET
Entrance

The first photo shows the view looking back toward the entrance of the famous open-air market. It was a fascinating place to visit and shop in. It was basically a large 'flea' market such as we have here at home, but of course the products are exotic. The flags in the distance mark the entrance. The subway station was up on the hill to the right. A long sidewalk leads from the entrance up the hill where it borders a street across from the subway. Peddlers with their wares lined both sides of the sidewalk for about a tenth of a mile. We weren't sure whether it would be proper to deal with them or not. So we just kept walking.

We had to pay a few dollars to enter the market area. We stopped at the first booth in the center isle to discuss when and where to meet after our shopping. As we stood there talking, a young man started doing a charcoal sketch of me. I remember that he said he was making money for college. I told him I wasn't interested, but finally agreed to a price. I still wasn't sure how to handle the exchange rate and I think he was asking for $50 but agreed to $20. That is still high and the sketch wasn't a very good likeness. We were told not to use US currency because the citizens there weren't supposed to take it and we might be caught up in a police sting. However, one of the young entrepreneurs said he had to buy his supplies with US dollars, so he should be paid in US. Many of the merchants could speak English, but some could speak very little. There was undoubtedly a rental fee for the booths.

The products ranged from old military uniforms and aircraft components, to the traditional 'nesting' dolls, to crystal eggs, KGB watches (they said), to pirated music and computer program CDs. They had world leader nesting dolls and famous sports figures nesting dolls. Of course jewelry and fur caps were for sale at many places.

Christmas Tree

As I have mentioned elsewhere, the Russians celebrate Christmas in January since the Greek Orthodox Christian church kept the holidays on the old calendar longer than the rest of the world did. The second photo shows the market's Christmas tree and another row of booths off to the right. This view is more to the south of the entrance.


Lunch

Although we had been warned not to try food prepared out in the open, Raul and I bought some shish-ka-bob for a snack. (It was the most recognizable food that we saw.) As we started to walk away from the vendor an old lady with a broom motioned us to the dining area and indicated that we should take the two vacant chairs with these fellows. (Raul took this photo of me with them.) I noticed that the red jacket had a KANSAS label sewn above the pocket and pointed it out to the fellows. I'm not sure they understood what Kansas meant, but the other fellow said the jacket was from a relative in Germany and the fellow wearing it had been to several cities in the mid-western states. They recognized the name 'Chicago.' They offered us a drink of vodka from their Styrofoam cup. We respectfully declined.

It was getting late and colder by the time we left. We didn't have time to stop and check prices of the items for sale along the sidewalk. A little girl of about six years old was holding a small accordion beside the sidewalk. An older lady was there to take care of her. She wasn't playing when we went by. Perhaps she played for money.

Subway

A 35-cent token allowed entry into the subway and then one could go anywhere. Another token was required to get back into the subway. The escalators were very steep. Ladies in booths at the foot of the escalators yelled over the loudspeaker system to keep order on the escalators. Those standing on the steps were required to stay on one side to allow others to walk up or down.Each subway station seemed to have a different motif. All of the system that I saw was clean and nice but looked a little old and rundown. The statue was as close to the military as I wanted to photograph.

The people were friendly. On two occasions young men stood and offered me their seats. On one ride a young girl, about 7 or 8, with a cardboard sign hanging from her neck entered the back door of the subway car. She walked silently to the front, got off at the next stop, and entered the back door of the car ahead of us.

We got back to the hotel at 3:30. I took a nap.

Starlight Grill

Met Raul for supper; he had arranged for Mary Ann and Victoria to take us to the Starlight Grill. Just a short ride on the subway and then a short walk. The snow had been cleared from most of the streets and sidewalks. The Starlight Grill had American food at reasonable prices. $5 for a malt and $11 for two pieces of meatloaf with 'smashed' potatoes, but no bread was provided. We got back at 9:00. Joey and his friends talked the others into going to the Sports Bar or the Hungry Duck. Mary Ann took Raul along to insure that they would be back at a reasonable time. [Raul is in his mid-20s and was one of our newest employees, so he was excited about getting out to see the sights. If he hadn't insisted on taking me, I might have stayed in the hotel the whole time. He has a strict, traditional Christian faith.]

Sunday 1/18/98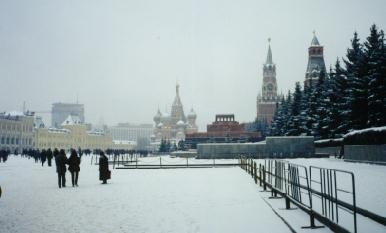 We had no idea where there might be a Christian gathering so we just toured the city. We took the subway to Red Square at about 9:00. We took some pictures in the square then left the square along the streets opposite St. Basil's. A woman in black suddenly appeared as we stood staring at that end of the Kremlin. She asked $5 per hour for each of us for a three-hour tour of the Kremlin and the Armory. She got us tickets for the Ascension Church and the Armory. [I don't remember whether that was included with the tour fee or not; probably not.] She explained the church buildings within the Kremlin (fortress) and how they related to the individual czars and their families. She explained the icons in the church and all the beautiful things in the armory; gold and jeweled work framing icon pictures; gold and silver utensils; old priests' robes; coronation gown; carriages; and amazing old rifles and pistols. We gave her 150,000 'old' rubles ($25 U.S.) which is what she said we owed her. She spoke almost constantly for three hours in fluent English. However, if we asked questions about things other than what she was describing, she had a little trouble answering. She wanted to stay with her routine so that we would see it all in three hours. She occasionally asked if we understood her.

| St. Basil | Kremlin Offices | Kremlin Bell | Cathedral | Our Guide |
| --- | --- | --- | --- | --- |




After leaving the Kremlin, we went into a beautiful, modern, multi-level mall. A moat is being built around the mall. It didn't have water in it, but I think it was going to be filled from the Moscow River. Bronze statues of characters from Puskin's stories were in the moat: the Firebird, a bear slapping a fish out of the water, and things like that. [Click the dome photo to see a larger version in its place above the fountain]. The dome is a stained-glass map of the northern hemisphere. Jemma Mitchell has a great photo of the outside of the dome and other great photos of the Kremlin, St. Basil's, and Gum.

We bought little meat-filled rolls, coffee, and hot chocolate at a small restaurant. This was their style of fast food. The girls at the counter couldn't speak English, but they did know to give us English menus. After we left the new mall we went back through Red Square to St. Basil's, but we didn't tour the interior. Then we went to Gum - a galleria type mall, very old and fascinating.

It was very cold and snowing and by the time we got back to the hotel at 3:00 or 4:00, snow had re-covered the areas that had been cleared by scrapping or melting from the warm weather the previous day. Cold, blowing wet snow had made part of the Kremlin tour pretty bad, but it was a little warmer after the tour and was really not bad at all. [When we made that final walk through Red Square, several hat salesmen appeared and I bought a fake fur hat for $10. The tour guide suddenly appeared again and told us that we didn't have to buy something from everyone who approached us and told us where we could get genuine mink hats. The Russian men are tough and don't use the earflaps on their hats, but not I!]
CURRENCY EXCHANGE
We were told that we shouldn't try to use U.S. money because the Russian people were not allowed to have it and plain-clothes police might confiscate it. A bank office was located just off the hotel lobby where we could exchange currency at the official rate. The rate of exchange varied from 5960 rubles (old) to the dollar to 5990 rubles to the dollar just before we left. Most of the notes were the old rubles. 1000 old rubles equaled one new ruble. The bank provided receipts for each transaction. Sometimes the receipts were preprinted with the Russian equivalent of John Doe or Bob Smith. When they didn't have a preprinted receipt in the amount I wanted, they typed my name in English letters. Here are the Russian names from three of the certificates transliterated from the Russian Cyrillic alphabet: Mikhail Aleksandrovich Kuznetsov, Ivan Ivanovich Ivanov, and Eduard Aleksandrovich Issolov. A fellow named Kuznets used to work in our division. I think his family had shortened it from Kuznetsov.

An exchange rate of approximately 6000 to 1 made transactions a little difficult at first. A $20.00 rabbit fur cap would be 120,000 rubles.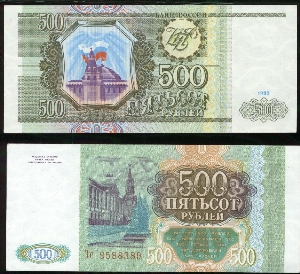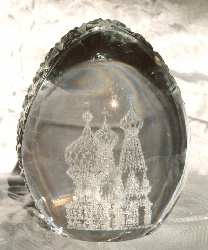 A 500 ruble note was worth less than $.10. There were no ruble coins in circulation since 1 ruble was only worth 1/6000 of a dollar. However, a set of coins could be purchased for about $4.00. Most prices seemed reasonable to me. A fellow at the open air market did a charcoal sketch of me and asked for an amount I calculated to be $50 for it. It didn't even look like me, although it was a nicely done picture. I think I paid $20 for it, but I don't know for sure; it was the first purchase I made at the market.
On the last day there I used U.S. dollars at the market to purchase this crystal (glass) egg for $20. The young vendor said that he really should be paid in dollars anyway because he had to pay for his supplies in dollars. I also gave $5.00 each to two young women begging at the airport as we arrived there on our return trip. I'll tell of that when I finish the journal.




PAGE ONE - Flight to Moscow by charter jet. Visit to the famous open-air market. Red Square and St. Basil in the snow. Kremlin tour. The new mall. Currency exchange, a 500 ruble note, and a glass crystal egg.
PAGE TWO The week a Zvezda (Star) - Zvezda designs, tests, and manufactures space suits, life support systems, and aircraft ejection seats. We went to their plant on the outskirts of Moscow, toured their museum, and observed the manned vacuum chamber test. We made a night visit to Red Square and another subway trip to the Starlight Diner.
PAGE INWORK
ZVEZDA SPACE MUSEUM - Several photos of the displays with commentary. Zvezda built the capsule and life support system for the first dogs in space. There was a big display about that. All the early space suits were diplayed. The spacecraft and airlock from which the world's fist EVA was made was on display.
Space Suit Test at Zvezda - The whole purpose for the trip was to observe an actual manned test of the refurbished Orlan spacesuit that was brought back from the Mir by the Shuttle. These photos show the vacuum chamber (vac-camera), the control consoles, the Orlan suit suspended in the chamber, and Gennady, the expert suit engineer and test subject.
Arkadiy Kulyov's MOSCOW PHOTOS - In addition to many great photos of scenes all around the Moscow area, there are AMAZING 360-degree panoramic photos of Red Square and Puskin Square. Use the cursor to scroll round and round the square. There is a great very wide panoramic view of the Moscow River near the 'glass' bridge. Just move the cursor and watch the river view glide by!
Jemma Mitchell's MOSCOW PHOTOS - Moscow in summer. Red Square, St. Basil, GUM, Kremlin, Lennin's Tomb, Views of the Kremlin from across the Moscow River.
Cycling Moscow to St. Petersburg - This is a really fun travel article. Some great photos around Moscow and out in rural areas. Photos of those who participated in the trip organized by Russian families and promoted on the web. The photos and story get better page after page. Seven great pages in all.
Another MOSCOW Journal - Journal and photos of a man who visited three months after my visit. There are photos of many buildings and some fine artwork from the subway. There is a great photo of one of the Patriotic Sculptures in the subway. It depicts a sitting woman with a rifle. I think I saw it during my subway travels. Part 2 has some copies of paintings from the nineteenth century and photos from the subways.
Marina's Moscow - A young woman of Moscow displays travel photos and interesting information about Moscow.

This set of pages is under construction. Some links may not work yet. (12/11/02)
Re-posted: 12/11/02