Ouachita River Crossings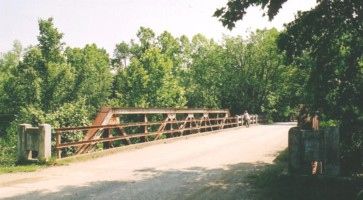 The Ouachita (wash-uh-taw) River begins near the western border of Arkansas in the foothills of the Ouachita Mountains just a few miles above this highway bridge built in 1929 on old U.S. Highway 71 at Acorn, Arkansas, a few miles north of Mena. The bridge is just wide enough for vehicles to pass each other slowly with care. Since it was uncommon to meet many other vehicles on the roads back in those days and since speeds were so low, it was customary to stop and wait for a vehicle already on the bridge to cross before proceeding. Of course there were occasional collisions on bridges when drivers misjudged speeds and distances, just as there are today at intersections and other critical driving decision making points - but rarely on bridges today.
I became interested in the Ouachita River when Interstate Highway 30 was completed between Little Rock and Texarkana. We began traveling that way on our annual trips back home to Arkansas. I was impressed with the beautiful view of rapids in the river just upstream of the IS 30 bridge and took a photograph of it. Later I noticed that US Highway 71 crosses the Ouachita just north of Mena and that the river begins just a few miles further west near Arkansasí border with Oklahoma. The river runs east to the area of Hot Springs where Blakely Mountain Dam has formed Lake Ouachita and, south of Hot Springs, Carpenter Dam has formed Lake Hamilton. The river then trends south to cross into Louisiana.
It occurred to me that a series of photographs of the river at various crossings would provide an interesting picture of the progress of the river as it crosses the state. I finally took time to stop at the Highway 71 crossing and, in looking for a place to park, found this old bridge that is almost hidden from the main highway by trees on the river bank. The dedicatory plaque on the bridge indicates that it was built in 1929. Richardson Ayers was contractor, Dwight H. Blackwell was State Highway Commission Chairman, and C. S. Christian was engineer.
Ouachita Trail Head
CR 97 off US 270
Eagleton
Arkansas SH 71
CR 54 off SH 8
CR 63 off SH 88
CR 67 off SH 88
Pine Ridge, AR
SH 379 near Oden
US 270 near Pencil Bluff
SH 298 near Sims
SH 27 at Lake Ouachita
I30 Bridge at Malvern
Quest Begins
Bridge
at Grigsby Ford
near Malvern
US 67
near Midway
River Street
Friendship, Arkansas
SH 8
Arkadelphis

Lake History - This is a press release of the history leading to construction of Lake Ouachita. Flooding created a need for flood control dams in the late 1800s, but the need for electrical power in the 1930s and 1940s led to the construction of the Blakely Mountain Dam that formed Lake Ouachita.
Recreation - This site provides some good, general information about the lake.
The Jot 'em Down Store in Pine Ridge - Web site of the folks who run the 'Jot 'em Down' Store in Pine Ridge, AR. Check out the pictures and information on their nice web site. They tell a little about the history of the town and about the two young country boys who turned a comedy routine into a 25-year career in radio and movies.
Lum 'n' Abner Study - Arkansas Memory Project by David Crouch on the effect of the Lum 'n' Abner show on other comedy radio shows of the time or vice versa. This is an interesting web site research project.
Postcard Views - A postcard view of Pine Ridge in the 30's before the building, that is now the museum, was moved to its present location. Many other old postcard scenes are shown and a history of Pine Ridge (formerly Waters) is given.
Hot Springs National Park - Also check out this great web site for the Hot Springs National Park. It has a selection of current photographs and some interesting old photographs of the area. There are some old stories and current information about the park and city.

Posted: 7/20/03